Bienvenue sur le site du Clan des Officiers !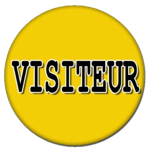 Si vous appréciez le contenu de notre site nous vous invitons à vous inscrire. Vous pourrez ainsi participer aux nombreuses discussions de notre forum. Pour échanger avec plus de 2000 passionnés de jeux sur thème de seconde guerre mondiale quelques secondes suffisent !

La page d'inscription est disponible ici.

Après votre inscription il est vivement recommandé de poster un message de présentation dans le forum des nouveaux arrivants. Cela nous permets de connaître le profil des personnes qui nous rejoignent. Une présentation de qualité, sur le fond comme sur la forme, est indispensable si vous souhaitez accéder à notre serveur audio, lieu de rencontre de nombreux joueurs francophones pour nos parties en réseau. Ce premier contact par écrit est aussi nécessaire si vous souhaitez rédiger d'autres messages.
 
Lors de votre inscription, le choix de votre pseudo et de votre image de profil (avatar) doivent être conformes à notre charte sous peine de suppression immédiate. Il est notamment interdit d'utiliser des pseudos ou des images de profil (avatars) de soldats d'un pays de l'Axe.
 
Ce message et les bannières publicitaires n'apparaissent plus pour les inscrits.
Content Count

1,304

Joined

Last visited

Days Won

11
Everything posted by Tribal
Le 25ième épisode est paru (Car ma connexion internet a réapparu !!!) Ce chapitre est particulier puisque Clostermann dresse le portrait de l'as Allemand Walter Novotny; bon visionnage.

Hello killer. je ne suis pas devant mon pc mais de mémoire, c est ALTG+C qui permet de changer de poste. Il y a sans doute des touches qui permettent un accès direct au poste désiré mais je n utilise pas. encore de mémoire, la combinaison permet de passer de conducteur à tireur puis à chef de char. je pense que cette combi est la même pour les avions avec équipage. A+

Sois le bienvenu ici. Et qui sait, peut être un jour en ligne sur tank crew , le jour où tu en auras assez de WoT

Ça c est une bonne nouvelle. Je dois encore avoir le CD de l édition originelle

Et voici le 17ième épisode, qui clôt la 2ième partie du livre de Clostermann. Il est retiré de la liste des pilotes opérationnels pour prendre du repos avant d être muté au QG de la RAF.

dernière soirée en date. Pas beaucoup d'action, vu de l'arrière-garde, mais des progrès dans la discipline. Reste plus qu'à faire taire les grands bavards pour entendre les dialogues in-game

Salutatousse. Une petite vidéo sans prétention de notre dernière soirée.

Voilà, le 13ieme épisode est paru. La première partie s arrête là, avec l installation de l escadrille de Clostermann en Normandie. Le confinement semblant s interrompre d ici peu, je vais ss doute faire un break. Sauf que les deux derniers chapitres m ont permis de rentrer dans l éditeur de mission d il2 et c est assez jouissif! Alors, peut être une suite à venir ?

Le résumé de la seconde partie de soirée.

Très agréable partie ce lundi soir, grâce à Mogwai¨, qui nous a "leadé" de main de maître et au groupe très discipliné. Et oui, c'est possible ?

Bienvenue, Matt. Un aviateur est forcément qqu un de bien. ?

Salut aux aviateurs et amateurs de warbirds confinement oblige, j ai commencé un truc qui me tenait à cœur, mettre en image le livre de Pierre Clostermann, le grand cirque, qui est son compte rendu de missions quand il volait dans la RAF. je fais ça avec les moyens du bord, cliffs of Dover, il2 great battles et movie maker. Donc il y a des imperfections historiques (lieux, modele de bombardier, etc...) mais l histoire est bien celle là avec des commentaires extraits du livre. pour l instant 10 épisodes. Peut être vais-je attendre la sortie de battle of Normandy pour la suite . bon visionnage. ps: vos commentaires sont les bienvenus ?

Amis aviateurs, ceci est pour vous :

Encore une nouvelle campagne gratuite; comme je l'indiquais, le contenu s'enrichit de jour en jour; plus d'une centaine de missions dispos. Et toutes de bonne facture, basées soit sur un contexte ou des faits historiques.

Bonjour François; sois le bienvenu

L apprentissage se poursuit. A la recherche du 10/e de seconde qui fera la différence (vivement la fibre!)

Sois le bienvenu , Tardi. Les soirées post-scriptum se tiennent le jeudi, 21h locale

Le contenu solo de ce jeu vient de s enrichir considérablement avec les missions développées par le tigre88. Un bref exemple

Voici le petit dernier, le Panzer V Panther. Je ne sais pas si ce n'est qu'une impression mais je trouve les textures moins léchées que le reste de la production. Moins de contraste, moins d'effets de surface ????