Bienvenue sur le site du Clan des Officiers !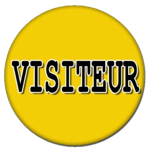 Si vous appréciez le contenu de notre site nous vous invitons à vous inscrire. Vous pourrez ainsi participer aux nombreuses discussions de notre forum. Pour échanger avec plus de 2000 passionnés de jeux sur thème de seconde guerre mondiale quelques secondes suffisent !

La page d'inscription est disponible ici.

Après votre inscription il est vivement recommandé de poster un message de présentation dans le forum des nouveaux arrivants. Cela nous permets de connaître le profil des personnes qui nous rejoignent. Une présentation de qualité, sur le fond comme sur la forme, est indispensable si vous souhaitez accéder à notre serveur audio, lieu de rencontre de nombreux joueurs francophones pour nos parties en réseau. Ce premier contact par écrit est aussi nécessaire si vous souhaitez rédiger d'autres messages.
 
Lors de votre inscription, le choix de votre pseudo et de votre image de profil (avatar) doivent être conformes à notre charte sous peine de suppression immédiate. Il est notamment interdit d'utiliser des pseudos ou des images de profil (avatars) de soldats d'un pays de l'Axe.
 
Ce message et les bannières publicitaires n'apparaissent plus pour les inscrits.
Content Count

21

Joined

Last visited
About Wolf0fD4wn
Rank

1ere classe

Birthday

May 26
Previous Fields
Jeu de stratégie temps réel WWII préféré
Merci, mais en fait j'avais fait que le tuto de ToW Afrika, mais en bataille même en low sa ram donc je suis malheuresment obliger de me tourner vers un autre jeu Si vous avez un jeu y ressemblent et qui demande moin de ressource je suis preneur.

Merci ! Je prendrais le mode de molière !

ToW Afrika Demo marche sur mon PC !

Merci pour ta réponse ! En fait je l'ai acheter sur Amazon pour 4€ livraison compris et donc je n'ai pas eu l'idée de passer par la démo.Merci bien , je vais télécharger les démos des autres ToW sur jeuxvideo.com. http://www.jeuxvideo.com/telecharger/jeux-et-demos/00014088-theatre-of-war-2-africa-1943-pc.htm http://www.jeuxvideo.com/jeux/telecharger/pc/00033030-theatre-of-war-2-kursk-1943.htm Merci a tous d'avoir esayer de m'aider ! Si tous les gens sur terre était aussi bon que vous...

Windows 2000/XP/Vista, Pentium IV 2,4 GHz, 768 Mo de RAM, carte 3D 128 Mo

Pourtant je fais tourner Battlefield 2 en medium et RUSE en low.

J'ai trouver un truc sur Battlefront.com "If you have the following video chipset/card, the game will NOT WORK.: -Mobile Intel® 900, 915, 925, 945GM/GU, 965 Express Chipset Family-Nvidia GF440MX and earlier-Nvidia GeForce 5600 and earlier -ATI Radeon 9550 and earlier" La mienne est une Mobile Intel® 4 Series Express Chipset Family , elle ressemble au premier tiret mais... c'est pas la même hein ? Pas vrai ? PAS VRAI !?

Non Atlentis , sa ne marche pas non plus Peut-être que sa vient de mon PC.

Merci ! je download le dossier , je donnerais réponse demain !

Non j'ai une : Mobile Intel® 4 Series Express Chipset Family et mon processeur : Pentium® Dual-Core CPU T4500 @ 2.30GHz et 4 go de ram. Merci quand même pour l'aide !

Non sa me met toujours runtime error #3(trap)

Bien le bonjour , non, je vais essayer. Merci je suis aller dans programe file (x86) j'ai directement supprimer le dossier anuma interactive , sa marche comme ca ? puis vider la corbeille.

Atlantis : Non sa me met encore runtime error #3(trap) pourtant le patch est en FR.