Bienvenue sur le site du Clan des Officiers !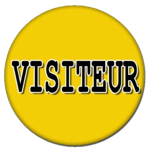 Si vous appréciez le contenu de notre site nous vous invitons à vous inscrire. Vous pourrez ainsi participer aux nombreuses discussions de notre forum. Pour échanger avec plus de 2000 passionnés de jeux sur thème de seconde guerre mondiale quelques secondes suffisent !

La page d'inscription est disponible ici.

Après votre inscription il est vivement recommandé de poster un message de présentation dans le forum des nouveaux arrivants. Cela nous permets de connaître le profil des personnes qui nous rejoignent. Une présentation de qualité, sur le fond comme sur la forme, est indispensable si vous souhaitez accéder à notre serveur audio, lieu de rencontre de nombreux joueurs francophones pour nos parties en réseau. Ce premier contact par écrit est aussi nécessaire si vous souhaitez rédiger d'autres messages.
 
Lors de votre inscription, le choix de votre pseudo et de votre image de profil (avatar) doivent être conformes à notre charte sous peine de suppression immédiate. Il est notamment interdit d'utiliser des pseudos ou des images de profil (avatars) de soldats d'un pays de l'Axe.
 
Ce message et les bannières publicitaires n'apparaissent plus pour les inscrits. Tartar of War
Visiteur enregistré
Content Count

651

Joined

Last visited
About Tartar of War
Rank

Capitaine
Previous Fields
Jeu de stratégie temps réel WWII préféré
j'ai un problème de connexion pour deux semaines depuis mon domicile, je suis obligé de déclarer forfait, et ne pourrai par conséquent pas gagner le tournoi! et je demande que la victoire soit accordée à Panzermause.

à demain, Panzer, mes Tigres Royaux se préparent!

j'ai regardé rapidement, c'est une vraie mine, surtout la ville de Berlin qu'on a presque en entier! Dans les unités, il y a le M 26 Pershing et le Puma! Mais le problème, c'est que les modèles ne sont pas convertis et qu'il faut 3DS MAX 8! (merci pour le manuel) Nous ne pouvons plus que prier Saint Knokke pour qu'il ait cette version de 3 DS pour faire les conversions en mesh!

je peux vous faire les cartes, vu que si ce sont celles d'Arzock, il risque d'être avantagé. Je conseille les parties aller/retour, en changeant d'hosteur, ça éviterait certaines tentations...

héhé, tu n'as pas peur des KingTigers? c'est possible lundi ou mercredi!

en tout cas, ce n'est pas moi qui ai la lanterne rouge!

pas sûr tout de même, j'ai vu que toW2 allait être traduit en allemand, alors qui sait peut-être en français!

c'est pas juste! Je pouvais encore remonter mon retard!

ça promet d'être intéressant ce match! Certainement très serré!

Félicitations Stimo! Tigresse, ce serait pas mal non plus! Et ça va bien au femmes en plus!

ok Panzer, ce ne sera pas alors avant la semaine prochaine, beaucoup de boulot en ce moment!

oui, pourvu qu'elle ne coupe pas trop les trajectoires

Panzer, je suis libre dimanche, ça te va?

hello Panzer!je ne peux pas pour le moment, j'ai les mains dans le cambouis de ToW2, dès que je peux, je te fais signe!