Bienvenue sur le site du Clan des Officiers !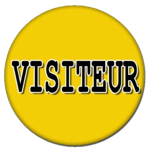 Si vous appréciez le contenu de notre site nous vous invitons à vous inscrire. Vous pourrez ainsi participer aux nombreuses discussions de notre forum. Pour échanger avec plus de 2000 passionnés de jeux sur thème de seconde guerre mondiale quelques secondes suffisent !

La page d'inscription est disponible ici.

Après votre inscription il est vivement recommandé de poster un message de présentation dans le forum des nouveaux arrivants. Cela nous permets de connaître le profil des personnes qui nous rejoignent. Une présentation de qualité, sur le fond comme sur la forme, est indispensable si vous souhaitez accéder à notre serveur audio, lieu de rencontre de nombreux joueurs francophones pour nos parties en réseau. Ce premier contact par écrit est aussi nécessaire si vous souhaitez rédiger d'autres messages.
 
Lors de votre inscription, le choix de votre pseudo et de votre image de profil (avatar) doivent être conformes à notre charte sous peine de suppression immédiate. Il est notamment interdit d'utiliser des pseudos ou des images de profil (avatars) de soldats d'un pays de l'Axe.
 
Ce message et les bannières publicitaires n'apparaissent plus pour les inscrits. Stofa
Visiteur enregistré
Content Count

52

Joined

Last visited
About Stofa
Rank

Caporal Chef
Previous Fields
Jeu de stratégie temps réel WWII préféré
Je suis dispo mais il faut juste que je reinstalle tow2

Félicitations Stimo!!!...Rassure moi, tu ne l'as pas prénommée Mathilda ou Valentine!?

Mais c'est génial! Moi qui ai tant craint depuis cette soirée, qui te fut si funeste, que tu ne reviennes, ivre de fureur, crier vengeance... Si tu arrêtes, je puis enfin retrouver le sommeil

Salut,J'aimerai dans un premier temps recenser les possesseurs de TOW2 et savoir quels sont leurs plages disponibles de jeu :Bien que le systeme multujoueurs soit nettement mieux concu que sur TOW1, l'activité semble assez faibleJe n'y ai joué pour l'instant qu'à 2 reprises mais j'ai hate de m'y remettreBref, je serai ce soir sur le serveur TS aux alentours de 21h30 et j'espere bien y retrouver quelques amateurs....Je testerai bien une partie à 4PS : P'tit message personnel à Stimo : J'espère que tu t'es remis de notre dernière soirée car j'en remettrai bien une couche... ...

Je suis dispo relativement souvent mais Dav semble actuellement être soumis à un micro-climat des plus instables...

Oui, bonne nouvelle si cela rêgle les plantages récurrents...Lors de la sauvegarde ou du chargement d'une sauvegarde, cela plante 1 fois sur 2...et je suis content quand je suis pas obligé de rebooter le PC...

C'est le titre du post, in english, oeuf corse Merci Arzok : Je viens de voir le post de Sneaksie...Au cas où il s'agit d'un champs de mines anti-personnel et anti-tanks à la fois, il conseille de passer ailleurs...

Lors de la 3eme mission allemande, la plus intéressante que j'ai joué jusqu'à présent, l'ordre suivant m'est donné : "Before the final offensive, we must check the crossings for minefields". 2 champs de mines sont marqués sur la carte...Ben alors, j'ai checké... ...la petite sauvagarde qui s'impose avant test et taïaut...mes tanks ont tous sauté comme des bouchons... Le manuel du jeu ne fait aucune mention de champs de mines dans le jeu et aucune unité ne semble en mesure de déminer ces champs...Pour finir la mission, je suis donc revenu sur mes pas et suis passé par le seul passage non miné...Quelqu'un ayant deja joué cette mission a t-il trouvé une solution de déminage?Merci pour vos réponses http://www.leclandesofficiers.com/Forum/public/style_emoticons/default/smile.png

J'espère pouvoir me libérer ce soir pour jouer ma partie tournoi contre Major, mais également une partie sur TOW2...

Avis aux amateurs !!! Je serai dispo pour une partie multi ce soir aux alentours de 22h sur TS....

Superbe AARZOK... J'espère que l'amélioration du mode multijoueur attirera de nouveaux joueurs...

Je l'ai telechargé dès hier soir...j'ai un PC un peu limite pour ce jeu donc j'ai baissé pas mal les parametres...Comparé au 1er du nom, y'a une evolution certaine...Vivement le test en multi!!!

41,90 exactement, pour ma part...Pour l'envoi, 20 $, c'est effectivement un gros abusSi t'es dispo, je te propose de tester le multi dès ce week-end, histoire de voir ce qu'il a dans le ventre...et d'allécher les éventuels indécis avec un AAR...

Je serai dispo mercredi soir aux alentours de 21h30 pour affronter soit Stimo soit Sire Gauvain...

Ben, ca pourrait etre là, maintenant... Je suis sur le chat!