Bienvenue sur le site du Clan des Officiers !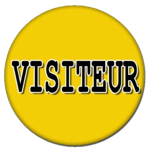 Si vous appréciez le contenu de notre site nous vous invitons à vous inscrire. Vous pourrez ainsi participer aux nombreuses discussions de notre forum. Pour échanger avec plus de 2000 passionnés de jeux sur thème de seconde guerre mondiale quelques secondes suffisent !

La page d'inscription est disponible ici.

Après votre inscription il est vivement recommandé de poster un message de présentation dans le forum des nouveaux arrivants. Cela nous permets de connaître le profil des personnes qui nous rejoignent. Une présentation de qualité, sur le fond comme sur la forme, est indispensable si vous souhaitez accéder à notre serveur audio, lieu de rencontre de nombreux joueurs francophones pour nos parties en réseau. Ce premier contact par écrit est aussi nécessaire si vous souhaitez rédiger d'autres messages.
 
Lors de votre inscription, le choix de votre pseudo et de votre image de profil (avatar) doivent être conformes à notre charte sous peine de suppression immédiate. Il est notamment interdit d'utiliser des pseudos ou des images de profil (avatars) de soldats d'un pays de l'Axe.
 
Ce message et les bannières publicitaires n'apparaissent plus pour les inscrits.
Content Count

2

Joined

Last visited
Recent Profile Visitors
The recent visitors block is disabled and is not being shown to other users.
Saber

changed their profile photo

Aucune préférence vidéo ludique même si j'aime quand le jeu laisse libre court à la créativité pour le multi et pousser le joueur solitaire à se surpasser. Pour bien comprendre ça, je prends énormément de plaisir à partager mon expérience avec les autres joueurs, essayer de de proposer quelque chose de frais et neuf ou juste à regarder ce que font les autres, et forcément discutailler. Dès qu'il y a une approche de jeu de rôle en fait, sans se limiter au genre pur. Exemple: Crusader Kings II, Borderlands, Civilization, Stellaris, Minecraft, Divinity, Terraria, Starbound etc. Pour le solo, je suis plutôt tourné sur des jeux à défis du coup fan de Shmup, Twin Stick Shooter, Medroivania et tout bon Rogue games qui soient. C'est même encore mieux en coopération. Je ne suis plus fan des jeux Paradox que ça, mais CK2 c'est une trop longue histoire d'amour.

Saber

joined the community

ça me plait, tranquillité et bonne humeur, tout ce qu'on aime sur CK2.