Bienvenue sur le site du Clan des Officiers !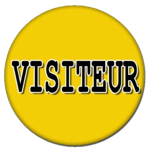 Si vous appréciez le contenu de notre site nous vous invitons à vous inscrire. Vous pourrez ainsi participer aux nombreuses discussions de notre forum. Pour échanger avec plus de 2000 passionnés de jeux sur thème de seconde guerre mondiale quelques secondes suffisent !

La page d'inscription est disponible ici.

Après votre inscription il est vivement recommandé de poster un message de présentation dans le forum des nouveaux arrivants. Cela nous permets de connaître le profil des personnes qui nous rejoignent. Une présentation de qualité, sur le fond comme sur la forme, est indispensable si vous souhaitez accéder à notre serveur audio, lieu de rencontre de nombreux joueurs francophones pour nos parties en réseau. Ce premier contact par écrit est aussi nécessaire si vous souhaitez rédiger d'autres messages.
 
Lors de votre inscription, le choix de votre pseudo et de votre image de profil (avatar) doivent être conformes à notre charte sous peine de suppression immédiate. Il est notamment interdit d'utiliser des pseudos ou des images de profil (avatars) de soldats d'un pays de l'Axe.
 
Ce message et les bannières publicitaires n'apparaissent plus pour les inscrits.
Leaderboard
---
Popular Content
Showing content with the highest reputation on 05/28/2018 in all areas
Juste wow ! Je n'ai que 2h de jeu, et c'est pourquoi j'aimerais l'avis de tous ceux qui ont pu l'esssayer. ? Je viens de faire une partie en tant qu'MG-Schütze 42, l'utilisation de ce fusil mitrailleur est juste dingue ! J'ai failli me faire écraser par un cromwell qui faisait marche arrière, et j'étais en train de ramper. Bon je m'en suis sorti, et 10 secondes après il est partie fumée. ? Malgrès ses petits soucis d'opti. et c'est normal, le jeu reste extrêmement agrèable ! Qu'en avez-vous pensé ?