Bienvenue sur le site du Clan des Officiers !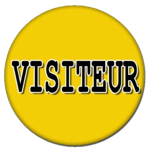 Si vous appréciez le contenu de notre site nous vous invitons à vous inscrire. Vous pourrez ainsi participer aux nombreuses discussions de notre forum. Pour échanger avec plus de 2000 passionnés de jeux sur thème de seconde guerre mondiale quelques secondes suffisent !

La page d'inscription est disponible ici.

Après votre inscription il est vivement recommandé de poster un message de présentation dans le forum des nouveaux arrivants. Cela nous permets de connaître le profil des personnes qui nous rejoignent. Une présentation de qualité, sur le fond comme sur la forme, est indispensable si vous souhaitez accéder à notre serveur audio, lieu de rencontre de nombreux joueurs francophones pour nos parties en réseau. Ce premier contact par écrit est aussi nécessaire si vous souhaitez rédiger d'autres messages.
 
Lors de votre inscription, le choix de votre pseudo et de votre image de profil (avatar) doivent être conformes à notre charte sous peine de suppression immédiate. Il est notamment interdit d'utiliser des pseudos ou des images de profil (avatars) de soldats d'un pays de l'Axe.
 
Ce message et les bannières publicitaires n'apparaissent plus pour les inscrits.
Content Count

8

Joined

Last visited
Everything posted by POOL44
salut a toi et bienvenue.

close combat de retour et avec les chars cool !!!!

salut a tous. mille excuse pour mes faute d orthographe,je suis rentrée fatiguer de bordeaux avec la neige sur la route.

bonjour a vous tous, je me présent djam àge 45 ans je suis de la region lyonnaise,je suis passionné sur la ww2 alors quant les jeux sur se theme sont sortie je suis tomber dedant comme obelix. j aime jouer sur se theme, pour moi il nous permets de revivre lieux et bataille historique et les soldats qui ont combattue a l époque (respect a tout combattant mort).pour les jeux j ai commencer avec clos combat + serie,steel panthers1et 2,sudden strike+ serie,blitzkrieg, warcommander,pour les fps battlefild 1942 +addon,wolfenstein,et call of duty premier du nom ,medal of honor,de bon souvenir pour les veterans.pour les jeux récent pour la stratégie; company of heroes+addon,officers,codename panzers la serie,men of war 1et2,combat mission 1et 2 ,theatre of war, une preference pour les fps:brothers in arms,red orchestra,et mon preféré iron front pour avoir jouer operation flashpoint cold war crisis 1 et 2 + addon et user mes yeux, un tres bon jeux , j avait l espoir qui sort un version sur la ww2, les dieux de la guerre ma entendu.bref:j aime bien jouer en aussi muttijoueurs et en equipe. au clan des officers salutation a tous. Edit : Je vous invite à être un peu plus attentif à la charte du forum. Merci de bien vouloir soigner votre orthographe. Nul n'est infaillible, mais il est tout de même plus agréable pour un lecteur de ne pas avoir à "décrypter" un message. Par avance, merci pour eux.

chouette le jeux. me fait pense a WARCOMMANDER pour seul qui on connu (2002) modèlisation trrès jolie.