Bienvenue sur le site du Clan des Officiers !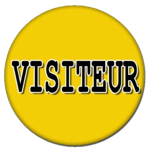 Si vous appréciez le contenu de notre site nous vous invitons à vous inscrire. Vous pourrez ainsi participer aux nombreuses discussions de notre forum. Pour échanger avec plus de 2000 passionnés de jeux sur thème de seconde guerre mondiale quelques secondes suffisent !

La page d'inscription est disponible ici.

Après votre inscription il est vivement recommandé de poster un message de présentation dans le forum des nouveaux arrivants. Cela nous permets de connaître le profil des personnes qui nous rejoignent. Une présentation de qualité, sur le fond comme sur la forme, est indispensable si vous souhaitez accéder à notre serveur audio, lieu de rencontre de nombreux joueurs francophones pour nos parties en réseau. Ce premier contact par écrit est aussi nécessaire si vous souhaitez rédiger d'autres messages.
 
Lors de votre inscription, le choix de votre pseudo et de votre image de profil (avatar) doivent être conformes à notre charte sous peine de suppression immédiate. Il est notamment interdit d'utiliser des pseudos ou des images de profil (avatars) de soldats d'un pays de l'Axe.
 
Ce message et les bannières publicitaires n'apparaissent plus pour les inscrits.
Content Count

18

Joined

Last visited
About bul
Rank

1ere classe
Bonjour je serais présent sauf imprévu.

En regroupant le joueur au déclencheur. Dans activation: Pl in thislist and (!alive s1) and (!alive s2) and (!alive s3) La condition s'active bien quand le joueur est dans le déclancheur. Merci pour vos réponses rapides.

Je me suis mal exprimer en fait je veux que le déclencheur soit activé quand les 3 vehicules sont hs(pas de problème) mais aussi que le joueur soit dans le déclencheur. Le joueur est allemand et nommé pl Mon déclencheur : Dans activation : Germany Condition : this and (!alive s1) and (!alive s2) and (!alive s3) Ça ne marche pas, en remplacent le this par pl in thislist c'est pareille. Ta réponse m'amène à une autre question. !alive vl1 or !alive vl2 or !alive vl3 Dans cette condition si 2 véhicules sont détruits elle ne fonctionne plus donc il faux faire un declancheur pour chaque posibilitée?

Bonjour, J'ai un declancheur qui fonctionne avec: this or (!alive s1) and (!alive s2) and (!alive s3) mais quand je veux remplacer le OR par un AND il ne fonctionne plus, je ne comprends pas pourquoi. this and (!alive s1) and (!alive s2) and (!alive s3) Merci

Bonjour Pour ma 1ère soirée avec vous j'ai passé un bon moment. Merci

Bonjour, Je serais présent sauf imprévu !

Bonjour, Je viens de brancher ma nouvelle carte son et sa marche, je reviens de Mumble et sa marche nickel. A bientôt sur Mumble.

Salut Crom Il n'y a pas de triangle jaune dans le gestionnaire de périphériques que la carte soit brancher ou non. La carte est une HERCULES MUSE LT gamesurround 4.1 qui date de mon 1er pc. Bon j'en ai assez, demain je vais investir dans une carte son en espérant que sa résoudra mon problème. Encore merci.

Je suis allé dans le BIOS pour désactiver le chipset et ça n'a rien changé. Les enceintes sont brancher sur le bon port et en débranchant tous les périphériques USB et autres, toujours pas de changement. Je suis allé dans le gestionnaire de périphériques et il n'y a pas de petit triangle jaune mais il n'y a pas de carte son non plus. win 8 à surement des problèmes de compatibilité avec ma carte son. Changer de carte son pourrait regeler mon problème ?

Merci Crom de t'intéresser à mon problème J'ai installé les derniers pilotes de la carte son qui sont compatible win 7. La carte mère est une M2V-MX SE SERIE et je ne sais pas si le chipset de ma carte mère est actif ou non. Une foi la carte son débranchée le pc utilise le gestionnaire de son HD Realtek mais aucun son ne sort de mes enceintes alors que les barres vertes montent et descendent. Le pilote HD Realtek est à jour et compatible win8.

Je viens de réinstaller les pilotes fournit avec la carte son et le micro fonctionne correctement quand je l'allume mais dès que je passe sur Mumble la voix métallique reprend. Je continue de chercher

J'ai une carte son hercules et j'utilise le pilote C-MEDIA PCI audio version 8.0.8.1744.

C'est une prise jack et les connecteurs à l'avant ou à l'arrière du pc ne règle pas mon problème. Le micro a été testé sur un autre pc et il fonctionne correctement.

Oui ,et j'ai essayé celui de teamspeak et toujours pas de resultat.je pense que c'est la configuration de win8 qui pose problème mais malgré mes recherche sur Google ça n'a rien changé.

Bonjour J'ai essayé de configurer mon micro une partie de l'après-midi mais sans résultat, il y a un grésillement, une voix métallique. Sur teamspeak c'est pareille. Je suis sur windows 8, et mes pilotes audio sont à jour. Merci.