Bienvenue sur le site du Clan des Officiers !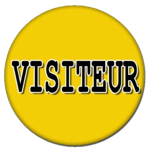 Si vous appréciez le contenu de notre site nous vous invitons à vous inscrire. Vous pourrez ainsi participer aux nombreuses discussions de notre forum. Pour échanger avec plus de 2000 passionnés de jeux sur thème de seconde guerre mondiale quelques secondes suffisent !

La page d'inscription est disponible ici.

Après votre inscription il est vivement recommandé de poster un message de présentation dans le forum des nouveaux arrivants. Cela nous permets de connaître le profil des personnes qui nous rejoignent. Une présentation de qualité, sur le fond comme sur la forme, est indispensable si vous souhaitez accéder à notre serveur audio, lieu de rencontre de nombreux joueurs francophones pour nos parties en réseau. Ce premier contact par écrit est aussi nécessaire si vous souhaitez rédiger d'autres messages.
 
Lors de votre inscription, le choix de votre pseudo et de votre image de profil (avatar) doivent être conformes à notre charte sous peine de suppression immédiate. Il est notamment interdit d'utiliser des pseudos ou des images de profil (avatars) de soldats d'un pays de l'Axe.
 
Ce message et les bannières publicitaires n'apparaissent plus pour les inscrits.
Content Count

135

Joined

Last visited
Everything posted by Shurik
We did a very good job as a part of tank crew on the last mission! It was intense. Thank you for joining us!

Ok! I offiicialy invite all French players to the next large tactical hardmode game. Sunday, 8 February, start 19:00 Paris (21:00 Moscow). game server IP: 81.88.208.221:2302 teamspeak: 193.19.119.188 Port: 9987, password: 1945 (Attention! Our old ts-server unavailable now! We use this one, but changes possible) btw, participating in international events its a one more opportunity to practice your spoken english Translation / Traduction : " OK, j'invite officiellement tous les joueurs français à la prochaine grande soirée tactique hardmode. Dimanche 8 Février ; début à 19h00 Heure de Paris (21h00 Heure de Moscou) Adresse serveur de jeu : 81.88.208.221:2302 Adresse Teamspeak : 193.19.119.188 / Mot de Passe : 1945 ((Attention! Notre ancien serveur TS n'est plus disponible maintenant ! Nous utilisons celui indiqué, mais des changements sont possibles). "

Joarius, Hi! Thank you for the answer! I see, anyway, Sunday 8 February - any chanse to see you (with "the end of the world" ) in case of international session? Yes, I'll be glad.

Bonjour! It's been a while we played last game with you. So may by let's plan one? For now we still have about 40 players each Sunday evening and about 15 players each Wednesday evening. Good old IronFront. But, on Wednesday, becouse of small number of players, we usually play now "Confrontation" missions, without TS plugin. Besides, Thursday it's now our IFA3 test day. Week by week it became better an better. Videos from the last sessions below: So, if you are still into idea of playing together, there is some offers: 1. Large international game, on Sunday, is it ok? 8 February for instance? 2. Gather 5..10..15 players and join us on Wednesday for Confrontation mode (no TS plugin, no radio, with respawn). You can use your mumble instead of TS. 3. Join us on Thursday for IFA3 hardmode session. Its really became better and better and quite playable. 4. Any other days? Any ideas? Translation / Traduction : " Bonjour! Cela fait un moment que nous avons joué la dernière rencontre avec vous. Alors on peut peut-être en prévoir une nouvelle ? Pour l'instant nous avons encore environ 40 joueurs chaque dimanche soir et environ 15 joueurs chaque mercredi soir. Bon vieux IronFront. Mais le mercredi, à cause du petit nombre de joueurs, nous faisons maintenant normalement des missions "Confrontation", sans le plugin TS. En outre, le jeudi est devenu le jour de notre test d'IFA3. Cet opus devient meilleur semaine après semaine. Voici des vidéos des dernières séances ci-dessous: Donc, si vous avez toujours envie de jouer ensemble, voici ce qu'on vous propose : 1. Une grande rencontre internationale, le dimanche ; ça irait ? Le 8 Février par exemple ? 2. Rassemblez 5..10..15 joueurs et rejoignez-nous le mercredi soir pour le mode Confrontation (pas de plugin TS, pas de radio, respawn utilisé). Vous pouvez utiliser votre mumble au lieu du TS. 3. Rejoignez-nous le jeudi pour la session d'IFA3 hardmode. C'est vraiment devenu mieux en mieux et tout à fait jouable. 4. D'autres jours proposés ? D'autres idées ? "

Today we invite everyone to join IFA3 fun pvp game based on DTAS (Dynamic Take And Secure game mode)! For participating you need: 1. IF for ARMA3 2. Latest version of Task Force Radio (v0.9.7) 3. Latest version of TeamSpeak (3.0.16) Connect our ts server (flashpoint.ru:9988 , password: 2010) after 18:45 hour de Paris. Game server WOG Iron Front Server #1 IP: 31.131.251.124 Port: 2312

http://forums.bistudio.com/showthread.php?170687-Iron-Front-as-mod-in-Arma-3&p=2821492&viewfull=1#post2821492

hi, would you mind if i try to join for a few missions? (not sure DLC and GEIST going to work correct for me) ps. sorry for the unexpected appearence

update: next Big International Game appointed on 16 november. Start on 21:00 Moscow time (19:00 Paris time I belive)

Bonjour! Recently we made some A3IF tests too http://www.arma2.ru/forums/showthread.php?t=58118 yes, there is still some bugs with tanks and vehicles, but infantry mostly playable. my point is: what do you think about making pvp games on A3IF sometime? its going to be fun and a good compromise between your coop and our hardmode tvts. Translation / Traduction : " Bonjour ! Récemment, nous avons aussi effectué des tests avec Iron Front sous ArmA 3 : http://www.arma2.ru/forums/showthread.php?t=58118. Oui, il reste encore des bugs avec les blindés et les véhicules sur A3IF, mais les combats d'infanterie sont largement jouables. Ma question : que penseriez-vous de faire des rencontres PvP sur A3IF parfois ? Ça serait fun et un bon compromis entre vos Coops et nos TvTs HardMode. "

Hi again, we still not sure about the date Tomorrow, 9 November, we'll play our usuall Sunday game (you're welcome to come and join us btw) probably the Big game will be on the next Sunday, 16 November. I'll try to inform you as fast as I'll have information.

Hello again! Joarius, don't be sad, I think we'll meet again on the fields of IF. I'm kinda back, at least for now, and found out that hard mode project doing perfectly well without me! Last Sunday there were 55 players on the server. I suppose its time to plan a next large international game. I propose 9 or 16 november (both Sundays). What do you think? ps. last months guys made missions on the new template (1.14), and it has a lot of new features, like realistic tiredness (depends on speed, amunition weight etc), realistic shell reloading, improved medication system and more Translation / Traduction : " Re-bonjour ! Joarius, ne sois pas triste, je pense que nous nous reverrons sur les champs de bataille d'IF. Je suis un peu en retrait, au moins pour l'instant, et j'ai constaté que le Projet Hard Mode se porte parfaitement bien sans moi Dimanche dernier, il y avait 55 joueurs sur le serveur.! Je suppose qu'il est temps de planifier une prochaine grande rencontre internationale. Je propose le 9 ou 16 novembre (des dimanches tous les deux). Qu'en pensez-vous ? PS : Ces derniers mois, des membres du Hard Mode Project ont réalisé des missions sur le nouveau modèle (1.14) ; il a beaucoup de nouvelles fonctionnalités, comme la fatigue réaliste (dépend de la vitesse, du poids des munitions, etc.), le rechargement réaliste des munitions, l'amélioration du système de soins, et plus. "

Hi, everyone! Long time no see. I almost quit on IF and gaming generally (mostly becouse of new job), but our guys still play. I heard they planing a big international tvt game on 7 september (start 21:00 Moscow time) They'll be glad to see you on this game. Please contact with Masterjak or someone else on our forum in case you need more information. Peace!

Hello! This Sunday, 6 April, we'll awaiting all your players to the next large international game! Attention! The time of start now is 19:00 Hour de Paris! (becouse of Europe changed to Summer time, but Russia did not) And of course players can join second or third mission later if they unable to be in time.

I had the same problems before, but after mission restart it works. So I think you should try to join today (each session we restarting mission). I have to say that this warfare still in a test mode. Please share your feedback. Dirty Haz is owner and admin of this server, I will send information to him. You are also can contact with him directly on the forum http://ironfront.forumchitchat.com/

Friday, 28 March, same time. Join it. More players - more fun. Translation / Traduction : " Vendredi 28 mars, même heure (18h30 Heure de Paris). Rejoignez-nous : plus de joueurs, plus de fun. "

Tomorrow, Tuesday 25 March, 18:30 Paris time, same server - next warfare session. Welcome. This time we'll fix some settings.

My thanks to all participants! Nice evening! Here is short video after my death (Staiff, you had a good chances to take a backpack from my corpse and bring our team a victory)

Today (Friday) join this server about 18:30 Paris time (or later, its not a problem).

Dirty Haz (server owner) told me "Its not gonna happens again"... Probably on Friday evening we'll try one more time.

Unfortunatelly server crashed in a hour after start. But it was a good experience, going to solve tecnical problems and continue tests.