Bienvenue sur le site du Clan des Officiers !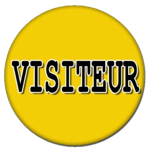 Si vous appréciez le contenu de notre site nous vous invitons à vous inscrire. Vous pourrez ainsi participer aux nombreuses discussions de notre forum. Pour échanger avec plus de 2000 passionnés de jeux sur thème de seconde guerre mondiale quelques secondes suffisent !

La page d'inscription est disponible ici.

Après votre inscription il est vivement recommandé de poster un message de présentation dans le forum des nouveaux arrivants. Cela nous permets de connaître le profil des personnes qui nous rejoignent. Une présentation de qualité, sur le fond comme sur la forme, est indispensable si vous souhaitez accéder à notre serveur audio, lieu de rencontre de nombreux joueurs francophones pour nos parties en réseau. Ce premier contact par écrit est aussi nécessaire si vous souhaitez rédiger d'autres messages.
 
Lors de votre inscription, le choix de votre pseudo et de votre image de profil (avatar) doivent être conformes à notre charte sous peine de suppression immédiate. Il est notamment interdit d'utiliser des pseudos ou des images de profil (avatars) de soldats d'un pays de l'Axe.
 
Ce message et les bannières publicitaires n'apparaissent plus pour les inscrits. Ambiorixx
Visiteur enregistré
Content Count

1

Joined

Last visited
Recent Profile Visitors
The recent visitors block is disabled and is not being shown to other users.
Bonjour à tous, Nouvellement inscrit sur ce forum spécialisé, je suis un peu étonné de ne rien avoir vu sur le jeu historique Command Ops 2 disponible sur Steam notamment. Ce jeu de niche ultra précis développe des combats STR de la deuxième guerre mondiale sur différents cadres d'opérations. Etant un habitant des ardennes belges près de Bastogne, j'ai bien entendu été intéressé par The Battle of the bulge dans ce jeu. Historiquement parlant, ce jeu est exceptionnel. Les vraies unités, les vrais terrains, les circonstances, etc... Il y a notamment une map qui recouvre le lieu où j'habite. Je peux vous dire que ce terrain est conforme au sentier près ! Bien entendu, ce jeu n'est pas destiné à tous mais uniquement ceux qui s'intéressent au côté tactique et historique. Il est difficile à maîtriser. Bonne découverte !