Bienvenue sur le site du Clan des Officiers !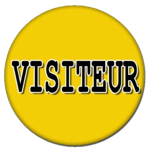 Si vous appréciez le contenu de notre site nous vous invitons à vous inscrire. Vous pourrez ainsi participer aux nombreuses discussions de notre forum. Pour échanger avec plus de 2000 passionnés de jeux sur thème de seconde guerre mondiale quelques secondes suffisent !

La page d'inscription est disponible ici.

Après votre inscription il est vivement recommandé de poster un message de présentation dans le forum des nouveaux arrivants. Cela nous permets de connaître le profil des personnes qui nous rejoignent. Une présentation de qualité, sur le fond comme sur la forme, est indispensable si vous souhaitez accéder à notre serveur audio, lieu de rencontre de nombreux joueurs francophones pour nos parties en réseau. Ce premier contact par écrit est aussi nécessaire si vous souhaitez rédiger d'autres messages.
 
Lors de votre inscription, le choix de votre pseudo et de votre image de profil (avatar) doivent être conformes à notre charte sous peine de suppression immédiate. Il est notamment interdit d'utiliser des pseudos ou des images de profil (avatars) de soldats d'un pays de l'Axe.
 
Ce message et les bannières publicitaires n'apparaissent plus pour les inscrits.
Content Count

3,212

Joined

Last visited
Everything posted by Sukhoi
En retard - car pas de connexion du week-end - je te souhaite un excellent anniversaire !

Bonne question. C'est sur le HT en fait ! Là par exemple pour War in the East ça me donne le jeu à 28.46€ (mais TVA italienne à 22%).

Pouf un coupon promo spécial Pâques est disponible durant tout le week-end. Il déduit 7.71€ (10$) à n'importe quel jeu ! C'est donc cumulable avec la réduction sur War in the East Promo code : MX-HAPPYEASTER!

Et voilà toujours les mêmes qui prennent du bon temps pendant que les autres rampent dans la boue. Allez dis-le que t'es un planqué ! @Joarius : ok pour moi du respawn définitif avec PvP violent pour patienter

Non non c'est du old access. Il a encore reçu une mise à jour il y a deux jours. Mais je suis le premier à dire que ce n'est pas donné. Disons que c'est mieux que le prix initial

Hello boys and girls ! Petite promo hebdo chez Matrix qui porte sur un monster wargame (première fois qu'il est en promo) sur le Front de l'Est : GG War in the East. Cela reste un tantinent cher malgré les 50% de réduction (on est à 37€) mais cela vaut le coup si vous voulez toucher du wargame vraiment hardcore. Pour un public averti ! Revendeur : Matrix Games DRM : numéro de série Remise : -50% Durée : 20 avril Genre : Wargame (pur) Jeux concernés : Gary Grigsby's War in the East Remarque : j'ai des accointances avec Matrix Games, je ne jugerai donc pas ni de la qualité des jeux ni de la pertinence de cette promo pour rester objectif.

(2) je confirme que pour cette mission il n'y avait qu'un char à la fois. En l'occurrence il y avait un seul équipage de char composé de MasterJack, Wil et moi-même. Mais comme on ne vous trouvait jamais, on a fait beaucoup d'allers-retours est-ouest (7) c'est un problème en effet. Le canal dont tu parles était précisément celui de l'équipage du char. C'était beaucoup plus pratique d'être séparé pour discuter avec MasterJack. Dans ce genre de cas, ce serait pas mal de faire une team francophone versus une team anglo-saxonne. Car c'est peut être pénible pour nos amis étrangers de ne rien comprendre pendant 90% de la soirée... The best would be to ask directly to Masterjack. Was the communication ok for the tank sub channel on Mumble? I'm sure there are rooms of improvement to get a better communication in English, so if you've any idea, please feel free to suggest

That was nice to get you aboard Masterjak! Sinon bonne soirée, juste pour la dernière mission le tank côté rouge c'est peut être de trop. ++ Translation / Traduction : " Il était agréable de t'avoir à bord Masterjak ! Otherwise good evening, just for the last mission the tank red side it may be too much. + + "

Ajoute moi en probable, disons à 87%. Et n'oublie que Crom et Amne en seront... parce qu'ils n'ont pas le choix, c'est comme ça. Évidemment je pose une option pour être le binôme de Trib'. Parce qu'on ne change pas une équipe qui gagne !

Bienvenue parmi nous ! Ah du wargamer à l'ancienne, qui aime pousser des pions, voilà qui fait plaisir

Coupe le moteur Trib, j'ai un visuel. Arf j'ai l'impression qu'on a pris trop au nord, bon on part vers l'Est !

Trib, au croisement après le troisième pommier, on avait bien dit qu'il fallait prendre à droite ? j'ai un doute tout d'un coup !

Kalypso sort de nouveau un bundle mais cette fois-ci en association avec Bundlestars. Revendeur : BundleStars DRM : Steam Remise : N/A Durée : 27 jours Genre : un peu de tout Jeux concernés : pour 3.49€ : [*]Jagged Alliance + Crossfire + 6DLCs [*]Tank Operations (style Panzer General) [*]Tropico 3 + principal addon [*]Sky Drift [*]Sine Mora [*]Alien Spidy [*]Dollar Dash [*]Dungeons + 2 DLCs [*]Disciples III Ressurection (pas de bol le seul valable c'est Reincarnation)

Le jeu vient officiellement d'être annulé par Paradox...

Indie Gala sort un nouveau bundle avec Rise of Flight + 1 DLC en tête d'affiche. Revendeur : Indie Gala DRM : Steam / Desura Remise : N/A Durée : 14 jours Genre : un peu de tout mais surtout Rise of Flight Jeux concernés : pour 1$ : [*]Jeu Indie à la con N°1 [*]Jeu Indie à la con N°2 [*]Jeu Indie à la con N°3 Pour 6$ (4$ durant les 12 prochaines heures donc courrez !) vous obtenez en plus : [*]Rise of Flight Channel Battles Edition [*]Rise of Flight - DLC Legendary Bombers (pour Steam seulement) [*]Solar Flux [*]Arcane Worlds [*]Victory: Age of Racing [*]Mini Motor Racing Evo [*]2 jeux supplémentaires encore inconnus Le lien pour conclure.

Ok, merci pour la synthèse Feldo

Du coup vaut mieux acheter sur Steam ou non? Ou on s'en fout?

On a frôlé le vaporware avec ce titre mais finalement il est parvenu à sortir ! Et ce n'est pas une sortie au rabais je vous rassure, ça tourne nickel. Pour ceux qui dépasseront le côté austère de l'interface et qui aiment le tactical / jeu de plateau c'est une bonne pioche. A mon sens un poil au-dessus de CoH d'ailleurs (mais non pas Company of Heroes espèce de joueur de STR mais Conflict of Heroes b***el).