Bienvenue sur le site du Clan des Officiers !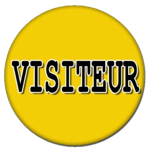 Si vous appréciez le contenu de notre site nous vous invitons à vous inscrire. Vous pourrez ainsi participer aux nombreuses discussions de notre forum. Pour échanger avec plus de 2000 passionnés de jeux sur thème de seconde guerre mondiale quelques secondes suffisent !

La page d'inscription est disponible ici.

Après votre inscription il est vivement recommandé de poster un message de présentation dans le forum des nouveaux arrivants. Cela nous permets de connaître le profil des personnes qui nous rejoignent. Une présentation de qualité, sur le fond comme sur la forme, est indispensable si vous souhaitez accéder à notre serveur audio, lieu de rencontre de nombreux joueurs francophones pour nos parties en réseau. Ce premier contact par écrit est aussi nécessaire si vous souhaitez rédiger d'autres messages.
 
Lors de votre inscription, le choix de votre pseudo et de votre image de profil (avatar) doivent être conformes à notre charte sous peine de suppression immédiate. Il est notamment interdit d'utiliser des pseudos ou des images de profil (avatars) de soldats d'un pays de l'Axe.
 
Ce message et les bannières publicitaires n'apparaissent plus pour les inscrits.
Content Count

500

Joined

Last visited
About SgtChaudart

Rank

Lieutenant

Birthday

11/07/1980
Problème résolu garce au support Steam! Super efficace!!

Malheureusement, il a changé l'adresse mail! J'ai contacté le support steam. Plus qu'a attendre...

Bonjour, Pour vous signaler que je me suis fait volé mon compte steam Du coup, je ne sais pas ce que ce "gus" peut faire, mais s'il vous contacte, ce n'est pas moi!! Pseudo steam : SgtChaudart

Ben voila, je me suis rendu. Je n'aurais jamais pu tenir jusqu'à la fin avec ce qu'il me restait! C'était une chouette partie. Bravo à Amnesia!!

Amnesia

reacted to a post in a topic:

Tournoi C.M

Le mot "tas" n'est pas l'adjectif que j'aurais utilisé pour désigner mes troupes à ce moment de la partie! Ou alors une très petit "tas"!

L'issue est plus que certaine! Mais l'avantage que j'ai par rapport à toi, c'est que je n'ai plus grand chose à faire durant mes tours. Plus qu'a regarder... le désastre!!

Ouais... Ben là... C'est la débandade totale!! Je ne sais même pas si je vais tenir jusque la fin! Incapable de toucher un seul sherman mes gus! Je réclame une enquête!! Sabotage!!

C'est clair que ça s'accélère!! C'est la fuite en avant pour moi!!!

Surement que les tiens ont eu une double dose pervitine!

C'est vrai que les bidasses germains sont loin d'être des foudres de guerre!! J'en ai certains qui sont effrayés rien qu'avec le bruit que font les shermans !!

Il est vrai que je connais ses effectifs ainsi que ses positions de départ. Mais cela reste un sacré challenge face à de si fiers G.I! Mes pauvres Géorgiens risquent d'en baver pour arriver à les stopper!

Salut à tous, Ça doit bien faire plusieurs années que je n'ai pas posté sur ce forum.... Cela fait également des années que j'ai n'est pas pratiqué de jeux en multi... Et puis je vois ce post qui propose un tournoi sur un jeu que j'apprécie beaucoup et que me redonne envie de "guerroyer" comme lors de mes premières années sur ce forum ! Du coup si c'est encore possible, je me porte volontaire.

SgtChaudart

reacted to a post in a topic:

Quiz : la Bataille de France 1940 saurez vous repondre ?

Désolé aussi pour ma part. Un contre temps qui ne devait durer qu'une heure s'est éternisé... Je serais aussi absent la semaine prochaine.