Bienvenue sur le site du Clan des Officiers !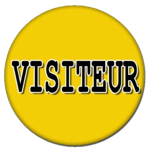 Si vous appréciez le contenu de notre site nous vous invitons à vous inscrire. Vous pourrez ainsi participer aux nombreuses discussions de notre forum. Pour échanger avec plus de 2000 passionnés de jeux sur thème de seconde guerre mondiale quelques secondes suffisent !

La page d'inscription est disponible ici.

Après votre inscription il est vivement recommandé de poster un message de présentation dans le forum des nouveaux arrivants. Cela nous permets de connaître le profil des personnes qui nous rejoignent. Une présentation de qualité, sur le fond comme sur la forme, est indispensable si vous souhaitez accéder à notre serveur audio, lieu de rencontre de nombreux joueurs francophones pour nos parties en réseau. Ce premier contact par écrit est aussi nécessaire si vous souhaitez rédiger d'autres messages.
 
Lors de votre inscription, le choix de votre pseudo et de votre image de profil (avatar) doivent être conformes à notre charte sous peine de suppression immédiate. Il est notamment interdit d'utiliser des pseudos ou des images de profil (avatars) de soldats d'un pays de l'Axe.
 
Ce message et les bannières publicitaires n'apparaissent plus pour les inscrits. Stimo
Visiteur enregistré
Content Count

117

Joined

Last visited
About Stimo
Rank

Sergent
Previous Fields
Jeu de stratégie temps réel WWII préféré
There used to be meetings on a weekly basis.During last vacations I moved in a new house in which there is a lot of work to do, and since I got back to work, so now I don't have no time left for online gaming and I don't know about MP games nowadays, but I miss it.If there was a way to negociate appointments with european and overseas gamers, I surely could join if I'm told a few days before.You can mail me at stimovsky#free.fr

D'instinct, je dirais que ton problème vient de Vista.Va voir ici ou là.Si tu ne comprends pas l'anglais ou si tu as besoin d'aide, reposte ici.

Je te félicite pour ce travail, qui n'a pas dû être simple à mettre au point.Je l'ai téléchargée et installée, je commence à y jouer dans une minute !

Il ne s'agit que d'une carte, il n'y a pas de mission livrée avec.D'ailleurs, il faut que tu déplaces le paquet pour qu'il soit dans le dossier MAPS.Ensuite, tu pourras créer une mission avec le Battle Generator.

Yavô pas gramin mieux à réponte ...

ça n'est pas un bug : certains changements au patchage sont critiques et font qu'une partie en cours sauvegardée sous la 1.1 deviendrait incohérente si on la relançait sous la 1.3.

Youpi ! ToW s'améliore encore !Je viens de finir de déménager et de mettre en route ma maison, je retrouve enfin un peu de temps pour jouer, et c'est vers ToW que je reviens avec le plus de plaisir :Je suis toujours partant pour une bonne bataille, faites moi signe !PS : et le tournoi ToW1, on en est où ?

On s'était mis d'accord pour jouer ça sur un seul scénario pour que ce soit fini plus vite.Qu'il y ait une belle fout en l'air mon plan machiavélique de l'emporter haut la main au décompte des pertes...La perfidie eut payé, mais elle paye pu

Je pense que PzMause confirmera que c'est très très dur pour le joueur allemand.Le bilan du match retour :

Je suis dispo dès maintenant, j'attends sur le chat

Ok pour moi, demain soir, 22h sur le chat des officiers.

Je suis de retour, PzMause, tu fixes un rdv, n'importe quel soir à partir de 22h ?

C'est pas bien grave, mais je suis encore trop naze pour jouer ce soir.

Désolé, forfait ce soir : j'ai la crève.

Je n'ai reçu aucun MP... est-ce qu'on peut jouer demain soir vendredi, à partir de 22h ?