Bienvenue sur le site du Clan des Officiers !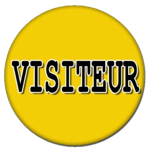 Si vous appréciez le contenu de notre site nous vous invitons à vous inscrire. Vous pourrez ainsi participer aux nombreuses discussions de notre forum. Pour échanger avec plus de 2000 passionnés de jeux sur thème de seconde guerre mondiale quelques secondes suffisent !

La page d'inscription est disponible ici.

Après votre inscription il est vivement recommandé de poster un message de présentation dans le forum des nouveaux arrivants. Cela nous permets de connaître le profil des personnes qui nous rejoignent. Une présentation de qualité, sur le fond comme sur la forme, est indispensable si vous souhaitez accéder à notre serveur audio, lieu de rencontre de nombreux joueurs francophones pour nos parties en réseau. Ce premier contact par écrit est aussi nécessaire si vous souhaitez rédiger d'autres messages.
 
Lors de votre inscription, le choix de votre pseudo et de votre image de profil (avatar) doivent être conformes à notre charte sous peine de suppression immédiate. Il est notamment interdit d'utiliser des pseudos ou des images de profil (avatars) de soldats d'un pays de l'Axe.
 
Ce message et les bannières publicitaires n'apparaissent plus pour les inscrits.
Search the Community
Showing results for tags 'Allons gratouiller le dos des Teutons avec nos cornemuses'.
Found 1 result
Hello fellows, Après moult tergiversations, je me suis décidé à vous faire partager notre partie en tour par tour par email. Via quelques modestes captures d'écran. Le scénario, qui nous oppose, Carlos et moi, se nomme : Keep Calm and Carry On. Vous y verrez s'affronter des éléments de la 15e division d'infanterie écossaise et des PanzerGrenadiers. Quelques blindés anglo-saxons seront également de la partie pour soutenir la biffe. Le terrain, où va se dérouler le contact, est symptomatique de la campagne normande : il est composé de champs assez vastes, de bocages et de bois. Avec au centre un hameau et ainsi que des bâtiments éparses. C'est l'aube et le brouillard nous enveloppe. Mais si vous souhaitez plus de détails sur la partie, n'hésitez surtout pas à foncer sur le blog de Carlos qui nous a fait le plaisir de traduire en français les briefings des scénarios de CMBN et CMFI. Entre autres. Le décor étant planté, passons au briefing de l'état major écossais. Compte tenu de la configuration du terrain, nous allons séparer nos forces en trois groupes : L, C et R. Nan, ce ne sont pas des cocos, mais juste les contractions des termes : Left, Center et Right. On est Écossais, ne l'oublions pas. Les équipes étant désignées, passons à la phase suivante : leur progression. Les trois groupes vont donc avancer en parallèle en gardant comme faire se peut une certaine synchronisation. Leur avancée se fera en quatre phases : A, B, C et D. Ces étapes seront désignées par une couleur sur la carte : - A : rouge, - B : jaune, - C : bleu, - D : rose. Le dispositif étant en place, entrons dans le vif du sujet.