Bienvenue sur le site du Clan des Officiers !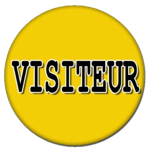 Si vous appréciez le contenu de notre site nous vous invitons à vous inscrire. Vous pourrez ainsi participer aux nombreuses discussions de notre forum. Pour échanger avec plus de 2000 passionnés de jeux sur thème de seconde guerre mondiale quelques secondes suffisent !

La page d'inscription est disponible ici.

Après votre inscription il est vivement recommandé de poster un message de présentation dans le forum des nouveaux arrivants. Cela nous permets de connaître le profil des personnes qui nous rejoignent. Une présentation de qualité, sur le fond comme sur la forme, est indispensable si vous souhaitez accéder à notre serveur audio, lieu de rencontre de nombreux joueurs francophones pour nos parties en réseau. Ce premier contact par écrit est aussi nécessaire si vous souhaitez rédiger d'autres messages.
 
Lors de votre inscription, le choix de votre pseudo et de votre image de profil (avatar) doivent être conformes à notre charte sous peine de suppression immédiate. Il est notamment interdit d'utiliser des pseudos ou des images de profil (avatars) de soldats d'un pays de l'Axe.
 
Ce message et les bannières publicitaires n'apparaissent plus pour les inscrits.
Content Count

1,967

Joined

Last visited
Everything posted by Maxander
Je serai présent Cromounet

Oui évite tout ce qui est épicé.

Essayes d'exciter ton processeur avec "Intel Burn Test" et vois si ca déclenche un plantage.

Je suis là pour en parler sukkie c'est une épreuve qu'on a vécu tous les deux.

Sukkie chaque jours tu es un peu plus mon dieu... Meme si tu tombes complétement dans le capitalisme.. Ton poste à la douane t'as fait un déclic?

J'ai eu un souci similaire avec un PC, c'était la CM qui avait grillé. Après comme dis l'ours si tu as un multimetre tu peux vérifier les tensions : Le + sur le jaune (+12v) et le - sur le noir (0, masse). Tu dois avoir une valeur très proche de 12v mais à peine plus dans l'idéal. Fais juste attention, le voltage est peut-être faible mais trifouiller le systeme électrique d'un pc pendant qu'il est allumé reste une manipulation dangereuse, fais les branchements PC éteint et débranché, allume, vérifie, puis éteins et débranche. En aucun cas il ne faut brancher un truc avec les surfaces conductrices à vif et non gainées pendant qu'un courant les traverse. Si tu as des valeurs faibles ou trop au dessus un changement d'alim s'impose.

L'utilisation des réacteur est déroutante aussi. Les tours ne tombent pas comme ça quand tu baisses les gaz, le rotor a une certaine inertie ce qui provoque un temps de "latence" du réacteur assez long faut pas l'oublier.

D'ailleurs ils nous ont sorti un truc bizarre cette fois.

C'était un topic sérieux!

étrange... essaye avec un autre navigateur.

Partie bien sympa tout de même. Pour ma première fois je suis assez fier.

Il faut se doter de la plate-forme de téléchargement d'EA : Origin. Puis cliquer sur "Télécharger Maintenant".

Merci beaucoup l'Ours d'avoir déplacé de topic.

Bonjour a tous, pour fêter les 11 ans de la sortie de battlefield 1942. EA offre le jeu sur sa plateforme Origin! Le lien : https://www.origin.com/fr-fr/store/buy/battlefield-1942/pc-download/base-game/play-for-free De futures parties en perspective? source

Comme je disais ca fait très Men of War. Mais en plus beau.

La nouvelle recrue Maxander se porte volontaire! Mon su est tout neuf!

Bon anniv Fabounet... Un peu en retards mais j'étais au taf... Pour me faire pardonner :

Ce bundle est un franc succès, ils ont réuni $1.000.000 en 2h30.

C'est très joli mais ca me rappelle énormément Men of War. Avec un peu de chance l'IA sera aussi poussée que les graphismes.

D'après les vidéos que j'ai pu voir je trouve l'interface très "encombrée".

Tu sais Crom, tu découvres ton corp ce n'est pas sale. Et mince je me reconnait.