Bienvenue sur le site du Clan des Officiers !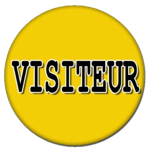 Si vous appréciez le contenu de notre site nous vous invitons à vous inscrire. Vous pourrez ainsi participer aux nombreuses discussions de notre forum. Pour échanger avec plus de 2000 passionnés de jeux sur thème de seconde guerre mondiale quelques secondes suffisent !

La page d'inscription est disponible ici.

Après votre inscription il est vivement recommandé de poster un message de présentation dans le forum des nouveaux arrivants. Cela nous permets de connaître le profil des personnes qui nous rejoignent. Une présentation de qualité, sur le fond comme sur la forme, est indispensable si vous souhaitez accéder à notre serveur audio, lieu de rencontre de nombreux joueurs francophones pour nos parties en réseau. Ce premier contact par écrit est aussi nécessaire si vous souhaitez rédiger d'autres messages.
 
Lors de votre inscription, le choix de votre pseudo et de votre image de profil (avatar) doivent être conformes à notre charte sous peine de suppression immédiate. Il est notamment interdit d'utiliser des pseudos ou des images de profil (avatars) de soldats d'un pays de l'Axe.
 
Ce message et les bannières publicitaires n'apparaissent plus pour les inscrits.
Content Count

1,369

Joined

Last visited

Days Won

17
About Tribal

Rank

Général de brigade
Recent Profile Visitors
The recent visitors block is disabled and is not being shown to other users.
L'épisode de Mars est déjà paru! Enjoy

Ahahahah ! Ça fait bien longtemps que Crom a abandonné les moteurs à piston. Va falloir que je mette sur le taxi-way un ME 262!

dernier épisode en date... https://youtu.be/UZOk8oAdhLg

Bien sûr on peut charger les skins avion par avion dans une même formation, à condition d avoir recuperé les skins au préalable

Merci Ham ! J'ai plus qu'à trouver un modeur pour le groupe Alsace. Pour le Spit MKV du 310 sqn, c'est trop tard, le 2ième épisode est déjà à la phase de montage

Bien vu, Ham. J'y ai glissé aussi, par erreur, un spit « polonais »… bon, je fais avec ce que je trouve car faire ses propres skins est un sacré boulot. Mais j'ai tout de même trouvé mon bonheur dans la cinquantaine de skins dispos pour le MK5.

Salut Ham. Content de te lire. Voici le 1er épisode de la série qui va m'occuper en 2023. Moins épique que ce que j'ai pu raconter jusqu'à présent mais qui correspond aussi à une réalité de cette période. Bon visionnage et bonne année à tous.

Voici mon nouveau projet pour 2023, inspiré de l'histoire de Jacques Andrieux. J'ai choisi ce livre plutôt qu'un autre, ça va vous surprendre, parce qu'il n'est pas épique; y a pas de héros, d'as des as, de dizaines de victoires; juste le quotidien d'un pilote qui répète les mêmes missions d'escorte, de surveillance, et qui les exécute du mieux possible, tout en rêvant de pouvoir "casser du boche"...J'espère qu'il intéressera qq uns d'entre vous.

https://youtu.be/3tm9sphNef4

voici le 13ième et dernier chapitre du livre "Des Tigres dans la boue" (Et dans lequel il n'est pas question de Tigre )

Le temps passe... Nous sommes en Juillet 44 et la Wehrmacht a entamé depuis longtemps son repli vers l' Allemagne, avec de temps à autre, un coup de main, ou coup de maître d'Otto Carius et son groupe de Tigres. Bon visionnage !

Mogwaii

reacted to a post in a topic:

Chaine YouTube

500e abonné à la chaîne You-Tube ce jour ! Encore 500 et on pourra rémunérer le C.D.O.

Premier combat d'Otto Carius avec le char Tigre. Et premiers succès...