Bienvenue sur le site du Clan des Officiers !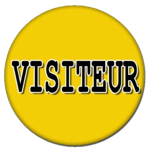 Si vous appréciez le contenu de notre site nous vous invitons à vous inscrire. Vous pourrez ainsi participer aux nombreuses discussions de notre forum. Pour échanger avec plus de 2000 passionnés de jeux sur thème de seconde guerre mondiale quelques secondes suffisent !

La page d'inscription est disponible ici.

Après votre inscription il est vivement recommandé de poster un message de présentation dans le forum des nouveaux arrivants. Cela nous permets de connaître le profil des personnes qui nous rejoignent. Une présentation de qualité, sur le fond comme sur la forme, est indispensable si vous souhaitez accéder à notre serveur audio, lieu de rencontre de nombreux joueurs francophones pour nos parties en réseau. Ce premier contact par écrit est aussi nécessaire si vous souhaitez rédiger d'autres messages.
 
Lors de votre inscription, le choix de votre pseudo et de votre image de profil (avatar) doivent être conformes à notre charte sous peine de suppression immédiate. Il est notamment interdit d'utiliser des pseudos ou des images de profil (avatars) de soldats d'un pays de l'Axe.
 
Ce message et les bannières publicitaires n'apparaissent plus pour les inscrits.
Content Count

1,278

Joined

Last visited

Days Won

9
About Tribal

Rank

Général de brigade
Recent Profile Visitors
The recent visitors block is disabled and is not being shown to other users.
Merci à Mika et Krieger pour l animation de la soirée. À renouveler

Présent! qu est ce que tu sous-entends par « parametrage »?

Un petit aperçu désolé pour la boulette du Dinan breton écrit avec un D!!!!

en effet. mais pas pu tester, pas de slot dispo et longue file d'attente; la rançon du succès

A ma connaissance, pas encore parue.

Petite vidéo en multi joueur https://youtu.be/C1b_JPN5SjU

Bonne question, Ham. Je l ai compris comme une map supplémentaire mais y a sûrement un prix à payer.... oui, tous les véhicules sont jouables. Par contre, P-S ne se joue pas seul. L idéal c est former un petit groupe et se retrouver à la logistique, ou tankistes, etc.... Mika nous a organisé ça très bien en son temps. Reprendra t il le flambeau?

Voici le second chapitre de post-scriptum les cartes ont l air sublimes et cette histoire (jamais traitée dans un jeu vidéo?) me botte. Si Mika avait la gentillesse de nous monter un groupe de combat ... je serai 1.000 fois partant !

Le dernier né, le mortier motorisé su-122. Difficile à jouer, mais le point positif c est que tank crew évolue à chaque màj de il2 great battles! dans les cartons, le Panther!

Ça y est, on connaît le prochain opus de cette grande série de simu aérienne. Après bodden platte, c est Battle of Normandy. Certains espéraient retourner dans le pacific, d autres pensent que ça fait double emploi avec blitz, cliffs of D'overdose... moi ça me plaît de penser voler au dessus de la maison et essayer de bombarder le pont qui enjambe la Sienne avec bien sûr de nouveaux avions, contemporains de juin 44. Le p47 razerback, le mousqueton, l arado, le typhoon.... de quoi voler dans le sillage de P. clostermann ! bon, comme d habitude, ça coûte un bras!

Une petite dernière avec wittman, l as des tankistes!

Affrontement de plus de 40 chars. Meme si les IA sont pas trop bêtes, à quand les PvP à 40 ?