Bienvenue sur le site du Clan des Officiers !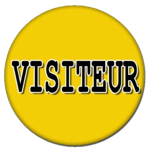 Si vous appréciez le contenu de notre site nous vous invitons à vous inscrire. Vous pourrez ainsi participer aux nombreuses discussions de notre forum. Pour échanger avec plus de 2000 passionnés de jeux sur thème de seconde guerre mondiale quelques secondes suffisent !

La page d'inscription est disponible ici.

Après votre inscription il est vivement recommandé de poster un message de présentation dans le forum des nouveaux arrivants. Cela nous permets de connaître le profil des personnes qui nous rejoignent. Une présentation de qualité, sur le fond comme sur la forme, est indispensable si vous souhaitez accéder à notre serveur audio, lieu de rencontre de nombreux joueurs francophones pour nos parties en réseau. Ce premier contact par écrit est aussi nécessaire si vous souhaitez rédiger d'autres messages.
 
Lors de votre inscription, le choix de votre pseudo et de votre image de profil (avatar) doivent être conformes à notre charte sous peine de suppression immédiate. Il est notamment interdit d'utiliser des pseudos ou des images de profil (avatars) de soldats d'un pays de l'Axe.
 
Ce message et les bannières publicitaires n'apparaissent plus pour les inscrits.
Content Count

1,312

Joined

Last visited

Days Won

12
About Tribal

Rank

Général de brigade
Recent Profile Visitors
The recent visitors block is disabled and is not being shown to other users.
Confinement oblige, la production a redémarré! Dans ce nouveau chapitre, nous sommes en Mars 45. L'armée allemande s'accroche aux rives du Rhin. Clostermann et son escadrille multiplient les missions, jusqu'à 4 par jour! Bon visionnage! En complément, un enregistrement sonore des Dossiers de l'Ecran qui réunit des pilotes, chasseurs dans la RAF et dans la Luftwaffe :

Hello. en effet si tu veux vendre le lot, c est plutôt à un club que tu dois t adresser. N oublies pas de préciser l échelle , c est primordial.

Le top du top. Mais en effet, il manque les sulfateuses pour ajouter un peu de piment et de stress au pilotage

Moi j'l'aime bien ton jeu de mot à Troie balles

Ours Barbu

reacted to a post in a topic:

Wittmann et son histoire

Ouh là ! Quelle purge! Ça pique les yeux. Il faudrait peut être que tu prépares ton récit sur un traitement de texte, que tu le relises, et relises encore, que tu le corriges, et corriges encore, et ensuite, mais seulement ensuite, un copier/ coller dans ces pages?

Salut Maj. J ai également cette BD. Un must en effet. Le livre de cloclo a bercé mon adolescence

Un 25ième épisode un peu particulier puisque dans ce chapitre Clostermann évoque la mort de Walter Nowotny, l as allemand.

Heureux que tu t en sois finalement sorti et que notre forum soit à nouveau opérationnel

Hello killer. je ne suis pas devant mon pc mais de mémoire, c est ALTG+C qui permet de changer de poste. Il y a sans doute des touches qui permettent un accès direct au poste désiré mais je n utilise pas. encore de mémoire, la combinaison permet de passer de conducteur à tireur puis à chef de char. je pense que cette combi est la même pour les avions avec équipage. A+

Sois le bienvenu ici. Et qui sait, peut être un jour en ligne sur tank crew , le jour où tu en auras assez de WoT ?

Ça c est une bonne nouvelle. Je dois encore avoir le CD de l édition originelle ?

Et voici le 17ième épisode, qui clôt la 2ième partie du livre de Clostermann. Il est retiré de la liste des pilotes opérationnels pour prendre du repos avant d être muté au QG de la RAF.

Djmika50

reacted to a post in a topic:

Soirée Spécial Post Scriptum: Chapitre 3

dernière soirée en date. Pas beaucoup d'action, vu de l'arrière-garde, mais des progrès dans la discipline. Reste plus qu'à faire taire les grands bavards pour entendre les dialogues in-game ?