Bienvenue sur le site du Clan des Officiers !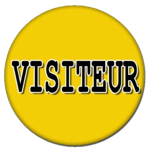 Si vous appréciez le contenu de notre site nous vous invitons à vous inscrire. Vous pourrez ainsi participer aux nombreuses discussions de notre forum. Pour échanger avec plus de 2000 passionnés de jeux sur thème de seconde guerre mondiale quelques secondes suffisent !

La page d'inscription est disponible ici.

Après votre inscription il est vivement recommandé de poster un message de présentation dans le forum des nouveaux arrivants. Cela nous permets de connaître le profil des personnes qui nous rejoignent. Une présentation de qualité, sur le fond comme sur la forme, est indispensable si vous souhaitez accéder à notre serveur audio, lieu de rencontre de nombreux joueurs francophones pour nos parties en réseau. Ce premier contact par écrit est aussi nécessaire si vous souhaitez rédiger d'autres messages.
 
Lors de votre inscription, le choix de votre pseudo et de votre image de profil (avatar) doivent être conformes à notre charte sous peine de suppression immédiate. Il est notamment interdit d'utiliser des pseudos ou des images de profil (avatars) de soldats d'un pays de l'Axe.
 
Ce message et les bannières publicitaires n'apparaissent plus pour les inscrits.
Content Count

1,264

Joined

Last visited

Days Won

9
Everything posted by Tribal
Affrontement de plus de 40 chars. Meme si les IA sont pas trop bêtes, à quand les PvP à 40 ?

Ayé. Les premières campagnes scriptées sont parues. Je dois avouer qu'elles sont bien faites, et pas mal immersives, pour ceux qui resistent à l'appel du F2 - vue externe - Pour vous donner un avant- gout

Salut à toi et bienvenue ici

Je me disais la même chose. Je sais pas si maj a regardé ses stats mais il a allumé le feu sur pas mal de blindés

Siouplaît, vous pourriez-vous m indiquer la route pour kursk ?

75% de remise sur battle of Stalingrad, battle of moscow et battle of Kuban. Et des remises sur qq campagnes payantes. Remises valables jusqu à fin octobre. Pour ma part je vais craquer pour Kuban!

Finalement la dernière màj Windows a corrigé le bug de Movie Maker. Donc vous subirez encore ceci :

Dernière production. il est possible que ça soit bien la der des ders car Movie Maker fait des siennes. A moins que ça ne soit mon pc. A voir.

Sympa ce nouveau mod de DCS...

Ok, c'est pas fouillé comme DCS, mais pour peu que vous possédiez IL2-1946, c'est gratuit

Très sympa. Merci Ham. crom, faudrait voir à payer ton abonnement internet

Arma III en Mod Jean-Jacques Annaud ????????

Je pensais naïvement le jeu plus abouti. Ça s est complexifié depuis SH. Un peu trop à mon goût. Et pas de sauvegarde dans le didacticiel. Après 1h, je sais toujours pas lancer une torpille... donc pour l instant, bof. A creuser avanot un verdict definitif

Le successeur de Silent Hunter est à moins de 20€ sur steam. J ai craqué...

Dernier épisode en date. Bonne journée

Dernière vidéo en date. Si cette simulation s enrichit petit à petit, il y a un truc qui commence à faire tache, c est le niveau de détail de véhicules IA. Par exemple, ici, les T70. Plutôt que de multiplier les types d unités à l'envi, ils devraient fignoler les existants. Je trouve que ça jure un peu. Mais bon, soyons patient

Ham, on commence à voir un peu de monde sur les serveurs Tanck Crew. J espère que l on pourra convenir d un rencard et faire rouler nos tigres ensemble

Je tombe par hasard sur ce post. J imagine que la camo du tigre a fini de sécher depuis 2018... une photo peut être ?

En "US+72", dernier opus de la série "Martine va en Grèce"