Bienvenue sur le site du Clan des Officiers !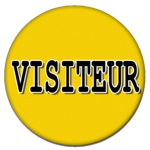 Si vous appréciez le contenu de notre site nous vous invitons à vous inscrire. Vous pourrez ainsi participer aux nombreuses discussions de notre forum. Pour échanger avec plus de 2000 passionnés de jeux sur thème de seconde guerre mondiale quelques secondes suffisent !

La page d'inscription est disponible ici.

Après votre inscription il est vivement recommandé de poster un message de présentation dans le forum des nouveaux arrivants. Cela nous permets de connaître le profil des personnes qui nous rejoignent. Une présentation de qualité, sur le fond comme sur la forme, est indispensable si vous souhaitez accéder à notre serveur audio, lieu de rencontre de nombreux joueurs francophones pour nos parties en réseau. Ce premier contact par écrit est aussi nécessaire si vous souhaitez rédiger d'autres messages.
 
Lors de votre inscription, le choix de votre pseudo et de votre image de profil (avatar) doivent être conformes à notre charte sous peine de suppression immédiate. Il est notamment interdit d'utiliser des pseudos ou des images de profil (avatars) de soldats d'un pays de l'Axe.
 
Ce message et les bannières publicitaires n'apparaissent plus pour les inscrits.
Content Count

112

Joined

Last visited

Days Won

9
About Soft

Rank

Sergent

Birthday

06/01/2005
Previous Fields
Jeu de stratégie temps réel WWII préféré
Salut Mog Ah super ! Il faut passer sur T.S / Discord pour jouer ? Une partie Offikrieg pour faire une pierre deux coups ( Deux baptêmes du feu en 1 seule fois héhé )

Une qui me retiens de quitter le jeu même après avoir passé longtemps dessus :

Coucou tout le monde ! Pour faire simple, j'ai terminé les 3 campagnes de BK et je dois bien le dire, c'était facile quand même. Entre l'IA qui a un QI qui ne dépasse pas les 5 points, les blindés qui font tout le travail, les canons à l'arrière carrément dévastateurs... En soi ce n'était pas de la stratégie, plus du bourrinage peu intéressant. Je reste sur ma faim ! C'est pourquoi je pense commencer à jouer en multijoueur, où la difficulté sera relevé d'un cran ou plus . Si une ou deux personnes pourraient organiser une petite bataille pour "m'initier" au multijoueur ce n'est pas de refus héhé Merci de m'avoir lu et à bientôt sur le champ de bataille !!

Salut à tous ! Je reviens sur le CDO que j'ai quitté depuis quelque mois, car je n'avais plus de temps a consacrer au forum. Quoi qu'il en soit, je me suis intéressé au militaria. J'aimerai commencer une collection militaire sur l'armée Soviétique mais y'a plusieurs problèmes qui entrent en jeu. De 1, je ne trouve aucune source d'information concernant le militaria, que ce soit comment faire pour bien commencer une collection ou encore où chercher etc... Et de 2, je ne pense pas trouver facilement des objets soviet' depuis la France. Comment faire du coup ? Si l'un d'entre vous peut m'aiguiller, je prends volontiers vos informations.

J'adore cette chaine YouTube ! Regarde aussi la chaine " Stardust " qui traite du même sujet avec précision, et qui rend simple de se prendre de passion pour ce qu'il se passe là haut, dans l'espace !

Mogwaii

reacted to a post in a topic:

Tutoriel - Ajouter l'aviation dans vos parties

Soft

reacted to a post in a topic:

PC à la mode Guyannaise

Soft

reacted to a post in a topic:

Steel Division 2 s'annonce et change de front, direction l'Est de l'Europe (JeuxVideo.com)

Oh mon dieu ! Génial ! Je reviens sur CDO après de longues vacances et je tombe sur cette merveilleuse nouvelle ! Hâte de jouer sur BK en multi ! Et anthology a 1.30 c'est une bonne affaire ( Toujours pas acheté Anthology :/, resté sur l'original )

Je ne suis pas sur le TS pour l'instant mais c'est CDO qui impose le PTT ?

Soft

reacted to a post in a topic:

Le forum est vide...

Voilà je suis en train de créer une carte sur la bataille de la forêt de Hürtgen et quand je teste la map, ça la lance mais BK se ferme donc IMPOSSIBLE de tester la map. Comment faire ?

J'espère que la nouvelle version va supprimer cette " fonctionnalité "

C'est complètement INUTILE ... C'est imposé par TS ?

Ah d'accord... Et donc à CHAQUE fois qu'on veut parler on doit appuyer sur la touche ?

Genre obligé ? Si on appuie sur " a " par exemple, on est directement sur TS ? A quoi ça sert ?

Qu'est-ce que le " push to talk " ?