Bienvenue sur le site du Clan des Officiers !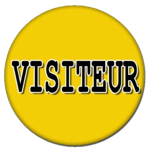 Si vous appréciez le contenu de notre site nous vous invitons à vous inscrire. Vous pourrez ainsi participer aux nombreuses discussions de notre forum. Pour échanger avec plus de 2000 passionnés de jeux sur thème de seconde guerre mondiale quelques secondes suffisent !

La page d'inscription est disponible ici.

Après votre inscription il est vivement recommandé de poster un message de présentation dans le forum des nouveaux arrivants. Cela nous permets de connaître le profil des personnes qui nous rejoignent. Une présentation de qualité, sur le fond comme sur la forme, est indispensable si vous souhaitez accéder à notre serveur audio, lieu de rencontre de nombreux joueurs francophones pour nos parties en réseau. Ce premier contact par écrit est aussi nécessaire si vous souhaitez rédiger d'autres messages.
 
Lors de votre inscription, le choix de votre pseudo et de votre image de profil (avatar) doivent être conformes à notre charte sous peine de suppression immédiate. Il est notamment interdit d'utiliser des pseudos ou des images de profil (avatars) de soldats d'un pays de l'Axe.
 
Ce message et les bannières publicitaires n'apparaissent plus pour les inscrits.
Content Count

1,336

Joined

Last visited
About Egregoros

Rank

Général de brigade

Birthday

07/18/1992
Previous Fields
Jeu de stratégie temps réel WWII préféré

Blitzkrieg - Darkest Hour
Egregoros

reacted to a post in a topic:

Une partie ça vous dit ?

Egregoros

reacted to a post in a topic:

Le multi de blitzkrieg est de retour !

Achète le sur GoG, il est à 1,29 euros en ce moment ?

Utilisé depuis un mois pour ma part (en beta), c'est très très cool !

Egregoros

reacted to a post in a topic:

Mise à jour Steam /Chat de groupe

Mais haha sacré Fabrice !

Très intéressé, et je peux ramener un joueur de plus pour Post Scriptum !

Vous m'avez donné envie de reprendre Wargame ! Qui l'eut(stu) cru ? ? Même si le jeu m'a reset mes stats (osef) et mes decks (là je gueule ?) j'ai bien envie qu'on remonte l'ancienne la ligue des gentlemen extraordinaire (Black t'as intérêt de revenir où j'irai moi même te chercher !) ?

Egregoros

reacted to a post in a topic:

On connaît les dates des soldes d'été Steam !

Egregoros

reacted to a post in a topic:

(WW2) Post Scriptum

Egregoros

reacted to a post in a topic:

Des infos et des images pour Close Combat : The Bloody First

Instant buy pour moi, ma faction préférée de Warhammer, je l'attendais depuis la sortie du 1er. Les unités que l'on aperçoit dans la vidéo de présentations donnent envie. Hâte de pouvoir les tester !

Merci pour le retour, j'y ai joué quelques heures et à chaque fois je me suis bien marré, un excellent jeu qui donne envie d'aller plus loin comme tu l'as fais Tribal

Salut à tous, et salut Tribal ! Je l'ai et c'est un excellent jeu, l'ambiance est superbe, avec les différents rôles (officier, porteurs de drapeau, etc.) il y a de quoi s'amuser.

De même, merci Crom pour la présentation, je suis le jeu depuis son annonce. Typiquement le jeu sur lequel je vais passer des heures !

Très belle interface, bravo !

Egregoros

reacted to a post in a topic:

C.d.O fait le plein de nouveautés pour la rentrée !

Bon plan merci Crom, même si je passe mon chemin vu que j'ai les 3/4 des jeux dans ce bundle ça vaut vraiment le coup pour ceux qui ne les ont pas.

Je ne serais pas contre une petite ce week-end mais en semaine c'est compliqué aussi de mon côté.