Bienvenue sur le site du Clan des Officiers !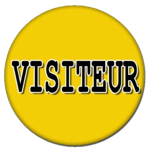 Si vous appréciez le contenu de notre site nous vous invitons à vous inscrire. Vous pourrez ainsi participer aux nombreuses discussions de notre forum. Pour échanger avec plus de 2000 passionnés de jeux sur thème de seconde guerre mondiale quelques secondes suffisent !

La page d'inscription est disponible ici.

Après votre inscription il est vivement recommandé de poster un message de présentation dans le forum des nouveaux arrivants. Cela nous permets de connaître le profil des personnes qui nous rejoignent. Une présentation de qualité, sur le fond comme sur la forme, est indispensable si vous souhaitez accéder à notre serveur audio, lieu de rencontre de nombreux joueurs francophones pour nos parties en réseau. Ce premier contact par écrit est aussi nécessaire si vous souhaitez rédiger d'autres messages.
 
Lors de votre inscription, le choix de votre pseudo et de votre image de profil (avatar) doivent être conformes à notre charte sous peine de suppression immédiate. Il est notamment interdit d'utiliser des pseudos ou des images de profil (avatars) de soldats d'un pays de l'Axe.
 
Ce message et les bannières publicitaires n'apparaissent plus pour les inscrits.
Content Count

15,129

Joined

Last visited
About Ours Barbu

Rank

Prévôt

Birthday

12/30/1987
Previous Fields
Jeu de stratégie temps réel WWII préféré
Adresse e.mail Le Clan des Officiers

ours.barbu@leclandesofficiers.com
Contact Methods
Website URL

http://www.leclandesofficiers.com
D'une manière générale, tout nouveau DLC chez PARADOX (et donc le gros patch associé) rend les sauvegardes précédentes obsolètes.

Ours Barbu

reacted to a post in a topic:

Le lem dans REENTRY

https://forum.paradoxplaza.com/forum/developer-diary/developer-diary-italy-1.1531121/ Ca semble bien intéressant @Rem : Une mise à niveau de détails de la carte comme les HOI précédents serait un bon point. Sinon pour les pays, il y a peut être quelque chose à faire avec les pays historiquement neutres (Suisse, Suède, ...) pour leur donner un rôle diplomatique et d'espionnage plus poussé et interactif avec les factions.

Les prières d'Atlantis ont été entendues !!! https://forum.paradoxplaza.com/forum/developer-diary/announcement-hearts-of-iron-4-by-blood-alone.1530022/ Prochain DLC sur l'Italie, et refonte (légère a priori) de la guerre aérienne !

Les devs s'attaquent à des points intéressants, mais leur roadmap mériterait d'être clarifiée...

Super soirée dans la bonne ambiance, comme d'habitude

Peut être pas enterré, mais clairement pas une priorité. Je penche plutôt à un développement et des DLC réalisés par une équipe très réduite, et donc des délais plus longs, car il y aura toujours une base de client. Et l'abandon complet d'une franchise, nouvelle en plus, serait peut être pire en terme d'image.

Le tank designer est intéressant effectivement. Il serait intéressant que l'optimisation des pièces soit pris en compte : utiliser le même châssis pour tous ses chars donnant un bonus de fiabilité par exemple (puisque les pièces détachées sont pour beaucoup communes, c'est plus facile à réparer) et de rapidité en construction. Le travail sur les mécaniques de combat terrestre semble bien plus profond que je ne le pensais. Cela doit demander beaucoup de temps et mobiliser l'équipe paradox (d'où probablement le recours à la sous traitance pour des DLC régionaux pour garder le rythme commercial). Même si ils auraient pu aussi en profiter pour refaire la carte à un niveau de détail du 3 par exemple. Je rejoins Rem sur le DLC avec l'avion disigner et l'arbre de focus italien

Ours Barbu

reacted to a post in a topic:

Hearts of Iron IV : actualités et discussions

Le travail sur la logistique me parait bien intéressant. En revanche, j'attends d'avoir plus de détails pour le terrestre. Il y a des choses à revoir pour sûr, mais j'aurais aimé un retravail de la carte avec le niveau de détail qu'on pouvait avoir sur HOI 3... Et je rejoins les déçus sur l'absence de travail sur l'arbre italien.

Dommage, j'ai pas accès à l'article.

Ours Barbu

reacted to a post in a topic:

A l'approche de Noël 3 idées pour soutenir C.D.O

Joie ! Je suis tout à fait d'accord avec toi. OVH ne s'est pas montré professionnel dans sa gestion de cet incendie, l'absence de redondance n'est pas digne d'un hébergeur ayant pignon sur rue...

Ours Barbu

reacted to a post in a topic:

Wittmann et son histoire

Mhm, je ne suis pas convaincu. Il y aura toujours un marché pour des gros processeurs : les joueurs et les pro qui ont besoin de beaucoup de puissance. Après tout est aussi question de logiciel. Et ses solutions "grand public" (petit proco avec puce graphique intégrée) sont très répandues. En revanche, là où intel est un poil désavantagé sur sa concurrence directe AMD, c'est qu'il ne fait pas de grosses cartes graphiques.

Ours Barbu

reacted to a post in a topic:

Le forum est de retour après une semaine de panne

Le jeu a de beaux jours devant lui et un programme de développement/équilibrage qui avance bien, et ça fait du bien à lire ! Et en plus pour la GPO sur les alliés, on pourra réécouter les plus grands hits discours de Churchill ! ?