Bienvenue sur le site du Clan des Officiers !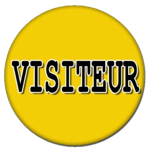 Si vous appréciez le contenu de notre site nous vous invitons à vous inscrire. Vous pourrez ainsi participer aux nombreuses discussions de notre forum. Pour échanger avec plus de 2000 passionnés de jeux sur thème de seconde guerre mondiale quelques secondes suffisent !

La page d'inscription est disponible ici.

Après votre inscription il est vivement recommandé de poster un message de présentation dans le forum des nouveaux arrivants. Cela nous permets de connaître le profil des personnes qui nous rejoignent. Une présentation de qualité, sur le fond comme sur la forme, est indispensable si vous souhaitez accéder à notre serveur audio, lieu de rencontre de nombreux joueurs francophones pour nos parties en réseau. Ce premier contact par écrit est aussi nécessaire si vous souhaitez rédiger d'autres messages.
 
Lors de votre inscription, le choix de votre pseudo et de votre image de profil (avatar) doivent être conformes à notre charte sous peine de suppression immédiate. Il est notamment interdit d'utiliser des pseudos ou des images de profil (avatars) de soldats d'un pays de l'Axe.
 
Ce message et les bannières publicitaires n'apparaissent plus pour les inscrits.
Search the Community
Showing results for tags 'Sondage'.
Found 3 results
Un petit sondage pour tous nos membres et visiteurs qui joueront à Heart of Iron IV. Le principe de ce sondage est simple : Tout d'abord remplissez le petit sondage au dessus pour le choix de la faction que vous allez jouer pour votre première partie de ce jeu, et ensuite répondez à ce sujet en donnant le nom du pays et pourquoi l'avoir choisi. Je me lance : Alliés pour la faction et Angleterre pour le pays. En effet, l'Angleterre est une des puissances principales de cette époque, ce qui permet de commencer avec une certaine marge de manœuvre en terme de potentiel. C'est également parce que ce pays permet de tester les trois composantes militaires : l'Army, la Navy et l'Air Force, avec des potentialités là aussi. Une dernière chose et non des moindre : sa géographie. Vu que c'est une île, je serais un peu plus à l'abri des autres puissances européennes. Voilà pour moi. A vous maintenant !

Ayant toujours à cœur de recueillir l'avis de nos visiteurs pour orienter le futur de C.D.O nous lançons un nouveau sondage sur la manière dont vous souhaiteriez être informés : Souhaiteriez-vous recevoir, via mail, une Lettre d'information reprenant l'actualité de C.D.O et des jeux sur thème de WWII (soirées multi-joueurs, articles, grands débats dans le forum...) ? [*]Non, par pitié, pas de spam supplémentaire. [*]Non, pas besoin de recevoir l'information par mail : je viens la chercher moi même sur le site lorsque j'en ai envie. [*]Oui, ça m'intéresse d'en recevoir une, une fois par mois [*]Oui, ça m'intéresse d'en recevoir une, une fois par trimestre Sur le fond, l'idée serait proche de ce que propose notre partenaire Mundusbellicus.fr avec sa synthèse mensuelle "Diarium Strategorum". Par ailleurs, si vous avez d'autres idées concernant l'évolution du site, je suis également à l'écoute. Ce sujet est donc une tribune ouverte à tout ceux qui souhaitent être force de proposition quant à l'avenir du site.