Bienvenue sur le site du Clan des Officiers !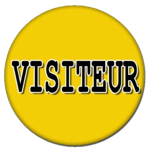 Si vous appréciez le contenu de notre site nous vous invitons à vous inscrire. Vous pourrez ainsi participer aux nombreuses discussions de notre forum. Pour échanger avec plus de 2000 passionnés de jeux sur thème de seconde guerre mondiale quelques secondes suffisent !

La page d'inscription est disponible ici.

Après votre inscription il est vivement recommandé de poster un message de présentation dans le forum des nouveaux arrivants. Cela nous permets de connaître le profil des personnes qui nous rejoignent. Une présentation de qualité, sur le fond comme sur la forme, est indispensable si vous souhaitez accéder à notre serveur audio, lieu de rencontre de nombreux joueurs francophones pour nos parties en réseau. Ce premier contact par écrit est aussi nécessaire si vous souhaitez rédiger d'autres messages.
 
Lors de votre inscription, le choix de votre pseudo et de votre image de profil (avatar) doivent être conformes à notre charte sous peine de suppression immédiate. Il est notamment interdit d'utiliser des pseudos ou des images de profil (avatars) de soldats d'un pays de l'Axe.
 
Ce message et les bannières publicitaires n'apparaissent plus pour les inscrits.
Search the Community
Showing results for tags 'multijoueurs'.
Found 3 results
Avec la sortie du nouveau contenu Post Scriptum: Plan Jaune, nous vous proposons une petite soirée de découverte mais surtout d'action. En effet, à l'issue de la session de "paramétrage", nous prévoyons de nous regrouper sur un serveur afin de constituer un groupe de combat et combattre nos adversaires en tant que formation. La France a besoin de vous ! Pour vous joindre à nous, inscrivez-vous !

Bonjour a tous, J'ai retélécharger Blitzkrieg il y a 2 jours sur internet et lorsque je veux jouer en multijoueur, je clique sur 'gameSpy' et déjà a partir de la le chargement devient assez long. Une fois arriver sur la page ma souris se bloque pendant bien 1min après je peux la déplacer. Aucunes parties ne s'affichent et j'ai installer OpenSpy pour voir mais rien n'y fait. J'ai le version 1.2 et lorsque je jouais a BK auparavant tout marchait bien. Je ne vois pas quoi faire mon ordinateur est assez puissant pour supporté le jeux. Et 2e petite question je voudrais qu'on me rappel comment installer un mod, la aussi je rencontre un problème j'ai installer le mod 'Panzerwaffen' tout est mit dans le bon fichier mais dans le jeux je rencontre le message 'unsupported MOD' Je vous remercie d'avance pour vos réponses j'en est vraiment besoin !

Une soirée multijoueurs de l'Alliance Francophone est prévue dimanche soir sur la bêta Company of Heroes 2 de Steam, qui a apparemment été prolongée. Ce sera sans nul doute l'une des dernières occasions de profiter du jeu avant sa sortie. Après consultation de camarades joueurs sur le groupe Steam de l'AF, quelques grands fans seraient dores et déjà volontaires pour voir si des fois ce nouvel opus ne serait pas bien plus fun entre amis ! La soirée est ouverte à qui veut : si vous êtes fan de la série COH et également intéressé, n'hésitez pas à passer voir ce soir vers 21 heures sur notre Teamspeak, ou sur Steam histoire de pouvoir se grouper facilement et jouer ensemble pour l'occasion. Alors, prêts à laisser momentanément de côté le front ouest, et incarner LE pays qui a vraiment fait le ménage durant la 2nde Guerre Mondiale ?