Bienvenue sur le site du Clan des Officiers !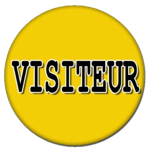 Si vous appréciez le contenu de notre site nous vous invitons à vous inscrire. Vous pourrez ainsi participer aux nombreuses discussions de notre forum. Pour échanger avec plus de 2000 passionnés de jeux sur thème de seconde guerre mondiale quelques secondes suffisent !

La page d'inscription est disponible ici.

Après votre inscription il est vivement recommandé de poster un message de présentation dans le forum des nouveaux arrivants. Cela nous permets de connaître le profil des personnes qui nous rejoignent. Une présentation de qualité, sur le fond comme sur la forme, est indispensable si vous souhaitez accéder à notre serveur audio, lieu de rencontre de nombreux joueurs francophones pour nos parties en réseau. Ce premier contact par écrit est aussi nécessaire si vous souhaitez rédiger d'autres messages.
 
Lors de votre inscription, le choix de votre pseudo et de votre image de profil (avatar) doivent être conformes à notre charte sous peine de suppression immédiate. Il est notamment interdit d'utiliser des pseudos ou des images de profil (avatars) de soldats d'un pays de l'Axe.
 
Ce message et les bannières publicitaires n'apparaissent plus pour les inscrits.
Content Count

93

Joined

Last visited
About Pastor
Rank

Caporal Chef
Previous Fields
Jeu de stratégie temps réel WWII préféré
Tu veux dire Men Of War Assault Squad 2 ?

Présent ARES 2-2 Chef d'équipe

Pastor

changed their profile photo

Présent, Chef d'équipe [Sgt]

Pastor

reacted to a post in a topic:

Campagne d'Afrique 1943

Oui absolument, je me suis complètement trompé de date en écrivant ce message...

On peut faire une joueur contre joueur, pourquoi pas : Les membres présent VS D'autres joueurs

Salut à tous, Ce soire, jeudi 18/11, au alentour de 21h Joarius, Valou et moi même allons jouer à Men of War Assault Squad 2. Si des intéressés il y a, vous êtes les bienvenus ! Pastor

Superbe soirée, un grand merci à Mog ! Il est dommage que la surprise des premiers instants, si d'aventure on rejoue se scénario, ne sera plus. Mais qui sait, on a peut être seulement aperçu la surface de l'iceberg Pastor

Je serais absent, petit imprévu

Hello, Je viendrai au cours de la soirée, je ne serai pas dispo à 21h

Absent , je suis dans mon nouvelle appartement, je n'ai pas encore déménagé la machine de guerre capable de lancer Arma3&co...