Bienvenue sur le site du Clan des Officiers !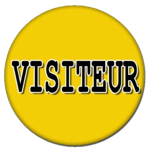 Si vous appréciez le contenu de notre site nous vous invitons à vous inscrire. Vous pourrez ainsi participer aux nombreuses discussions de notre forum. Pour échanger avec plus de 2000 passionnés de jeux sur thème de seconde guerre mondiale quelques secondes suffisent !

La page d'inscription est disponible ici.

Après votre inscription il est vivement recommandé de poster un message de présentation dans le forum des nouveaux arrivants. Cela nous permets de connaître le profil des personnes qui nous rejoignent. Une présentation de qualité, sur le fond comme sur la forme, est indispensable si vous souhaitez accéder à notre serveur audio, lieu de rencontre de nombreux joueurs francophones pour nos parties en réseau. Ce premier contact par écrit est aussi nécessaire si vous souhaitez rédiger d'autres messages.
 
Lors de votre inscription, le choix de votre pseudo et de votre image de profil (avatar) doivent être conformes à notre charte sous peine de suppression immédiate. Il est notamment interdit d'utiliser des pseudos ou des images de profil (avatars) de soldats d'un pays de l'Axe.
 
Ce message et les bannières publicitaires n'apparaissent plus pour les inscrits. Katian
Visiteur enregistré
Content Count

74

Joined

Last visited
About Katian
Rank

Caporal Chef
Salut a tous !Connaissez-vous spring 1944 ? http://spring1944.net/Un bon jeu gratuit à tester ! (avec SpringLobby)

Je trouve que c'est une bonne vidéo sans couleur politique

J'ai acheté FRAPS et je suis un peu décu, les vidéos prises en cours de jeu en définition identique au jeu entraine des sacades dans le jeu...

salut !pour le dernier patch apparement il y aurai une mission "commando"laquelle est-ce ? http://www.leclandesofficiers.com/Forum/public/style_emoticons/default/pardon.gif merci !

je vois aucune mission depuis la 1.28 et il manque des textes dans les boutons.....

...et ca va faire de la pub pour le jeu... toujours le meme stratageme...

Salut, j'ai payé un mois d'abonnement, ou puis-je trouver un petit guide pour bien débuter ?La derniere fois que j'y ai joué c'etait juste avant Battleground Europe, quand c'etait encore wwiionline

Il a le dos assez solide dit donc !

Ils vont pas se retaper tout le code du jeu ! sur Console le code est fait pour un matos bien précis alors que sur PC c'est plus varié. Donc solution simple reprendre le code console et ajouter une couche pour que ca aille avec le matos PC, donc forcement c'est plus lourd...

Moi je suis dispo pour tenter le multi su CC5, j'ai pour l'instant les mods meuse et invasion normandy

Au fait, j'avais abandonné ce jeu car je ne pouvai plus diriger mon char au clavier.... c'est toujours le cas ?

Salut !Face of war, blitzkrieg... etc... y en a t'il un aussi realiste (balistique etc...) que theatre of war ?

donc il faut que l'autre humain reste connecté tout le temps de la campagne ???

Sa lut à tous !Qui peux me dire comment fonctionne une campagne en multijoueur sur Close Combat 5 ?C'est la meme chose pour tous les mods ?merci !